NORFOLK, VA - A new study, published in the journal Pediatrics, shows that parents can sooth their babies with five comforting methods to help reduce the pain of infant vaccinations.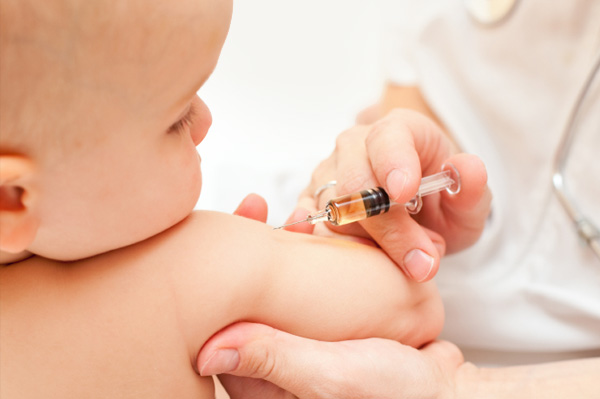 Baby getting vaccinated.                                                                   SheKnows                                                                                                           
The method was developed by assistant professor of Pediatrics at the USC School of Medicine, Dr. Harvey Karp.
The five techniques are known as the five S's. This includes swaddling, placing the baby on its side, gently swaying, having the child suck on a pacifier and shushing in the infant's ear. These measure help calm the baby immediately after being stuck with a needle. These steps work together by imitating the feelings of being in the womb.
The study was published in the journal Pediatrics and led by Dr. John Harrington of the Children's Hospital of the King's Daughters in Norfolk, Va.
Harrington encourages parents to use Karp's five S's to alleviate discomfort after infant immunizations.
"Some parents might be a little skittish giving their babies vaccines knowing it's not painless… they can do something to reduce the pain and soothe their child," Harrington said.
During the study, medical residents were trained to use the five S's on infants after they received their routine vaccination shots.  The study found that infants who were exposed to the five S's immediately after getting stuck with a needle scored lower on a pain measurement scale. Babies also stopped crying faster compared to infants given a sugar solution.
CBS Video: Soothing a Crying Baby
When it comes to reducing vaccination pain in babies, Dr.Karp is confident in his development of the five S's method.
"There's been 30 to 40 years of research showing the individual S's work, but what was missing was the recognition that babies are born with a reflexive-off switch for crying and an on-switch for sleeping," Karp said.
A sugar water solution is commonly used to reduce pain in infants after infant immunization shots. Harrington believed that together the five S's and the water could relieve pain. Before the study, he doubted that the five S's alone could be affective. But researchers found that pain scores were lower in infants when using the five S's.
"Going in, we thought that maybe sugar and the physical intervention would work together," said Dr. Harrington.  
"But what we found was that just the physical intervention was good enough. You really didn't need to give sugar prior to the shots."
On average, infants receive at least three shots per two month checkup and two at their four month visit. Breastfeeding is commonly used to soothe babies during these checkups, but for women not breastfeeding it is encouraged to use the five S's. These techniques can also relieve discomfort in a colicky baby.
By Amanda Legros
With Contributions by the New York Times, USA Today, CBS
Photo, SheKnows
Video, CBS
EDUKATE YOSELF
WebMD: More Parents Refuse, Delay Child's Vaccination
10 Reasons Why Parents Choose Not to Vaccinate
Facebook: Parent Connection - Infant Vaccinations
Twitter: It's National Infant Immunization Week!